Dolanan Song As A Medium Of Art Expression And Children's Social Relations
Keywords:
dolanan songs, social relations, artistic expression, children's education
Abstract
Nowadays, new creations of children's dolanan songs are becoming increasingly rare. What arises and develops are adult songs in the form of the music industry accompanied by dangdut koplo. The research aims to reconstruct how the dolanan songs, which still exist, are used as a form of artistic expression and as a medium for children's social relationships. The research method applied is descriptive qualitative. The research location is Semarang, conducted in several schools that teach the dolanan songs. Data collection techniques used in this research are observation, interviews, and documentation studies. The data validity technique uses triangulation by matching data from observations, interviews, and study documentation. The data analysis technique uses an interactive analysis flow. The study results show that first, the dolanan songs, which are used as an art facilitator at school, can be used by children to express art under teacher guidance and can be used as a means of social relations between students facilitated by the teacher. Dolanan songs are recommended to continue to be used as an educational medium for children through formal education. It is hoped that children's artistic expressions will be channelled and can be used as a medium for children's social relations through art according to the children's souls.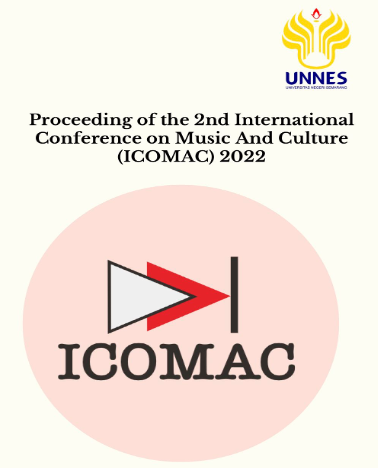 Downloads